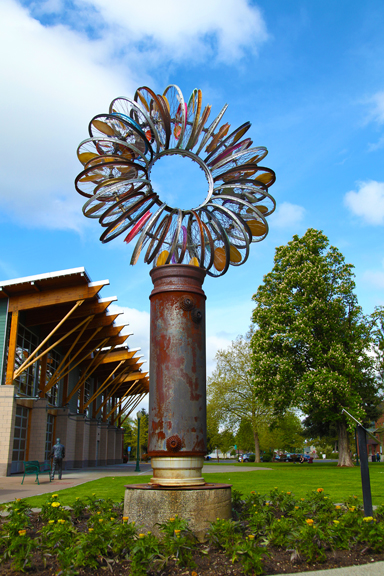 SOLAR WIND
Patricia Vader
Made of Steel and Aluminum with Powder Coating
$16,000
---
Artist Statement
Solar Wind evokes radiation, energy, sunbeams or explosion with the simple circular arrangement of bicycle wheels of three different sizes The largest wheels are affixed to a huge motorcycle rim while all the smaller ones are freely rotating.
---
About Patricia
Patricia Vader is a California-based metal & wind sculptor specializing in kinetic public art, with sculptures displayed in cities and parks nationwide. Windmills made with bicycle wheels are a signature element of her work, the latest record featuring thirty-eight windmills on a single piece of art, "Butterfly", in Northglenn Colorado. Her low and flat country of origin, The Netherlands, has the highest bicycle density in the world, with a current average of 1.1 bicycles per inhabitant. She started making windmills after moving to a very windy hilltop overlooking horse and cow pastures just north of San Francisco.
Solar Wind is one of Patricia Vader's signature kinetic works with eleven spinning and purring windmills. It moves in the slightest air flow and creates a joyful spectacle emanating energy just like our life-giving orb in the sky.
Visit Artist Website