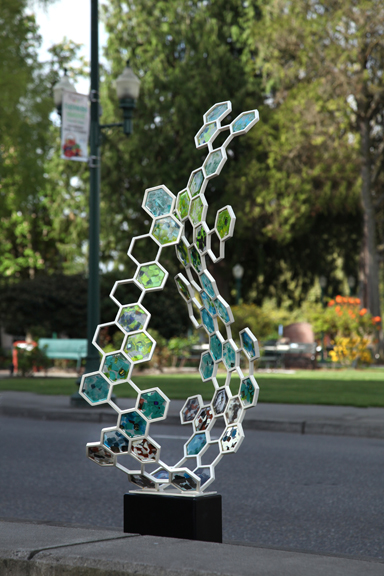 FOSSIL II
Lin McJunkin & Milo White

Made of Steel and Cast Glass
$4500
---
Artist Statement
About Fossil II, Ms. McJunkin had this to say: "Cast glass hexagons fill the metal forms with nature's colors of aquamarine and spring green. It is our sincere hope that a solution is found to the Colony Collapse Syndrome experienced world-wide by beekeepers and caused in part by pesticide use and our warming climate, before bees become "fossils" themselves."
---
About Lin & Milo

Sedro-Woolley metal sculptor Milo White has nearly three decades of experience in both industrial and art welding. Using a computer, CNC plasma cutter, and welding equipment, he experiments with the interaction of light on layered metal shapes. In collaboration with glass sculptor Lin McJunkin, he adds highly colored and textured glass shapes to the metal frameworks, creating a hybrid new art form.
San Francisco native Lin McJunkin comes to the warm glass art world through traditional stained glass. The gift of a small kiln hooked her on the narrative potential of glass, and after a summer at Pilchuck International Glass School, she now has four styles of warm glass to design with: cast, kiln-carved, pate de verre and cluster fusing.
She brings over 30 years' experience in the glass art world to her collaboration with White. And while each artist is in full charge of the technical aspects of their work, all aesthetic, design, and marketing decisions are made together

Visit Artist Website: