Events
---
Premier Gallery Presents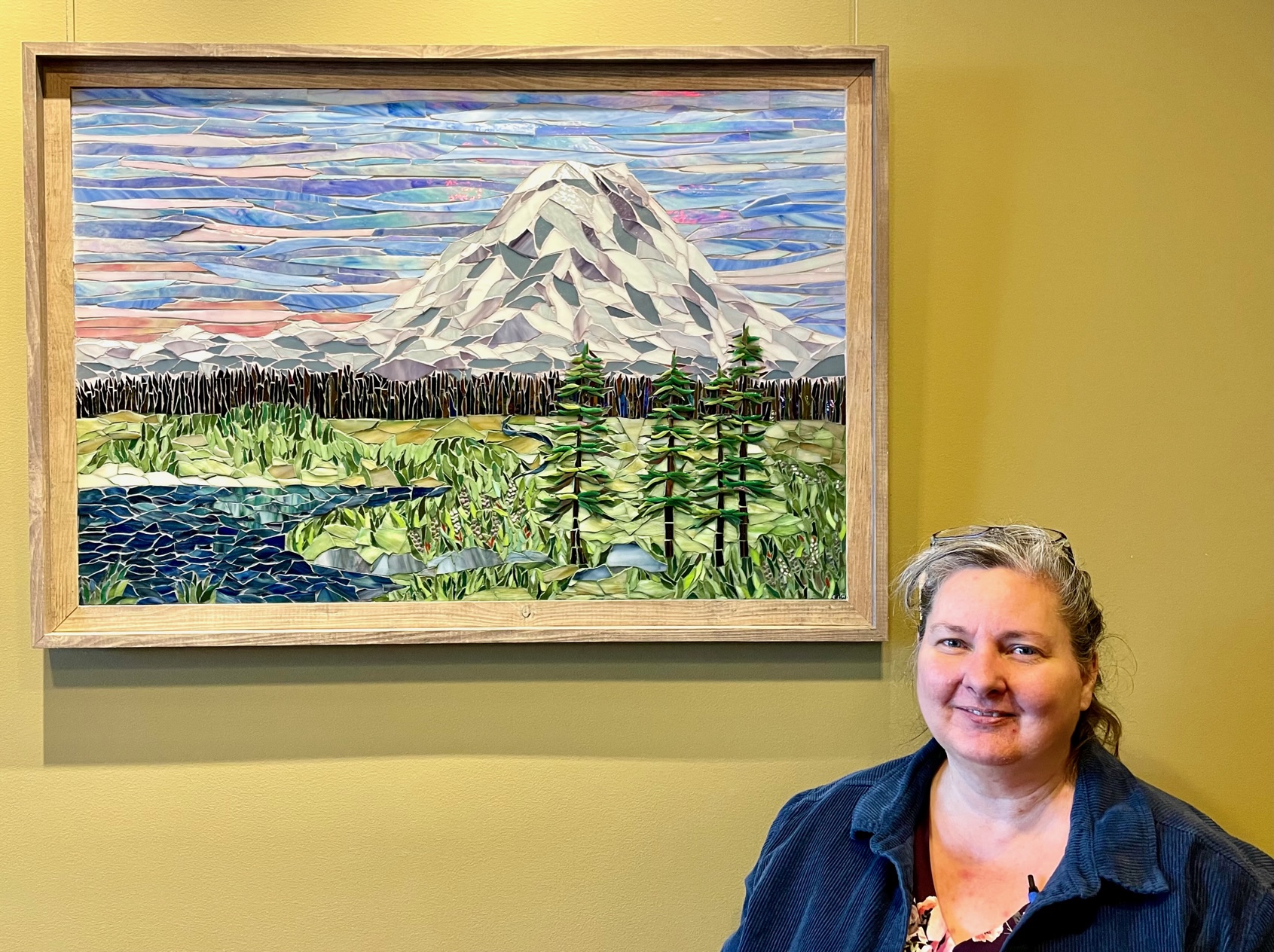 Carolyn Hoebelheinrich, Mosaic Artist
Date: March 4th through May 30th, 2022
Time: Monday-Friday 9:00-4:00, closed weekends and holidays
Place: Puyallup Activity Center
210 West Pioneer Ave, Puyallup, WA 98371
---
City Gallery Presents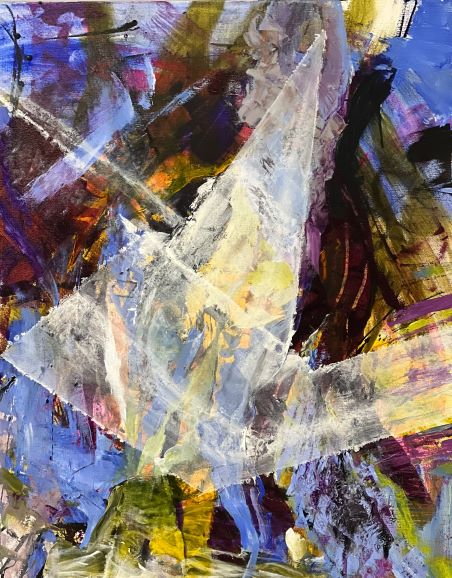 Pandemic Retrospective
Date: April 4th through May 31st.
Reception Ceremony: April 28th, 2022
Time: 5:00 pm
Place: Puyallup City Hall Building
333 S Meridian, 5th Floor, Puyallup, WA 98371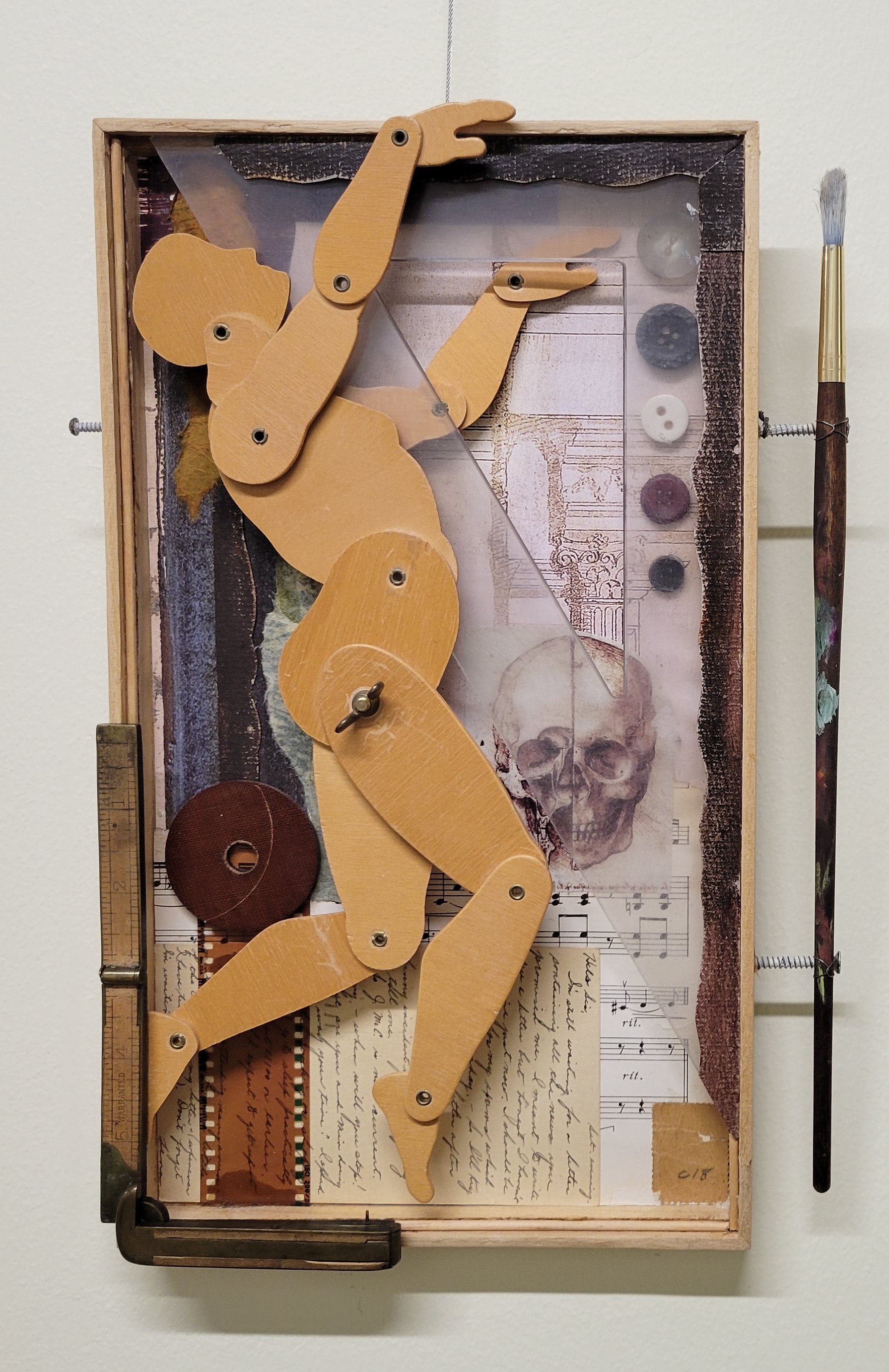 Material Expression
Date: November 22 through March 28th
Reception Ceremony: February 17th at 6 pm
Time: 6pm
Place: Puyallup City Hall Building
333 S Meridian, 5th Floor, Puyallup, WA 98371
Artists Trish Cole and Tammy Montevideo collaborated on the "Material Expression" fine art show.
Collage and fine art painter Trish Cole has a strong voice for the marginalized. Her works express the materialistic issues she sees in the world. The painting, Oil Invasion is her rendition of the beauty and the atrocity of oil pollution.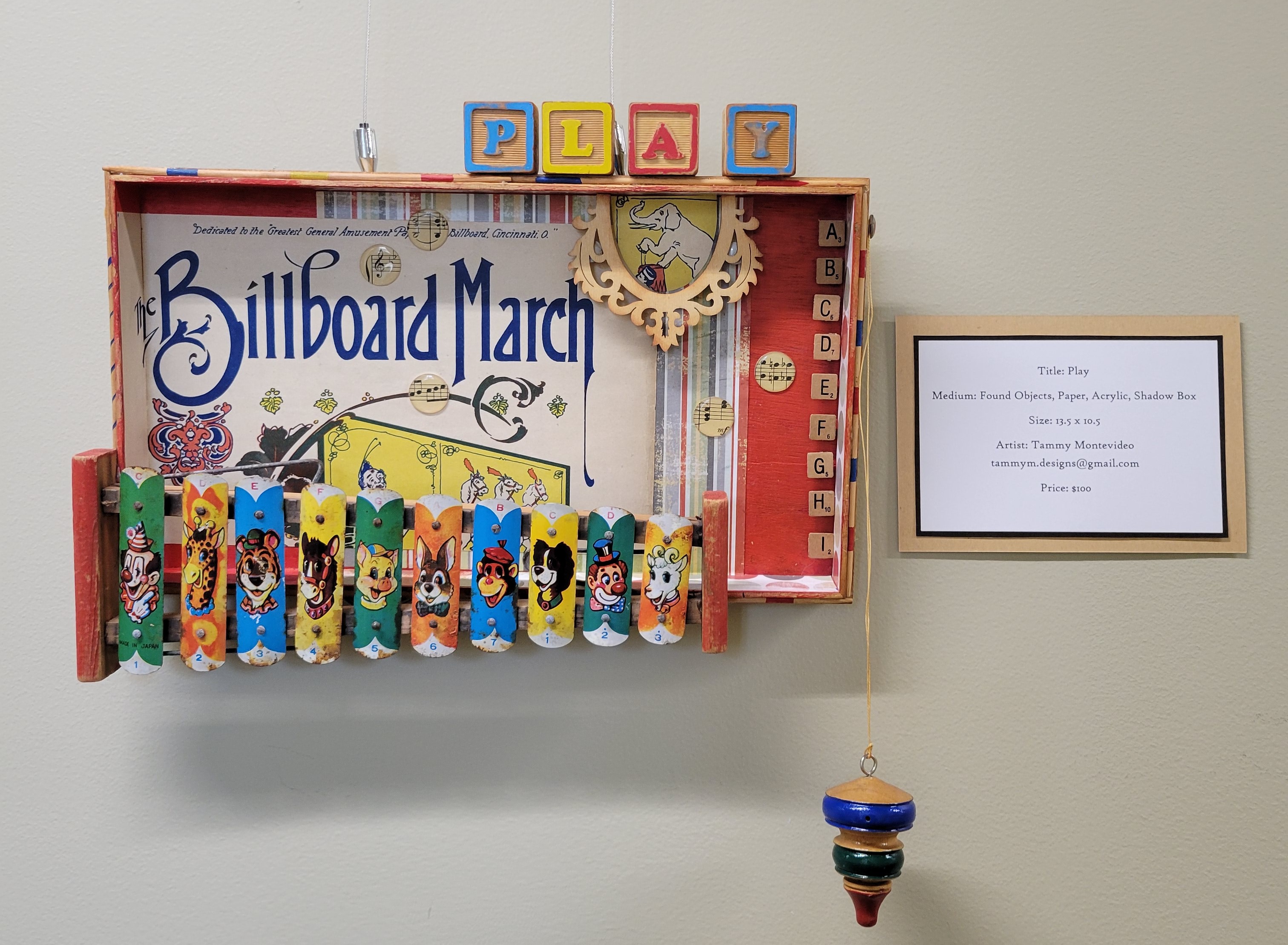 Assemblage artist, Tammy Montevideo, finds expression through the use of the materials/objects she collects and relishes. Most of the works tell stories told through the objects. Play is an example of this. "It reminds me of childhood cracker box cookies and the by-gone exploitation of animals in the circus."
---
Premier Gallery Presents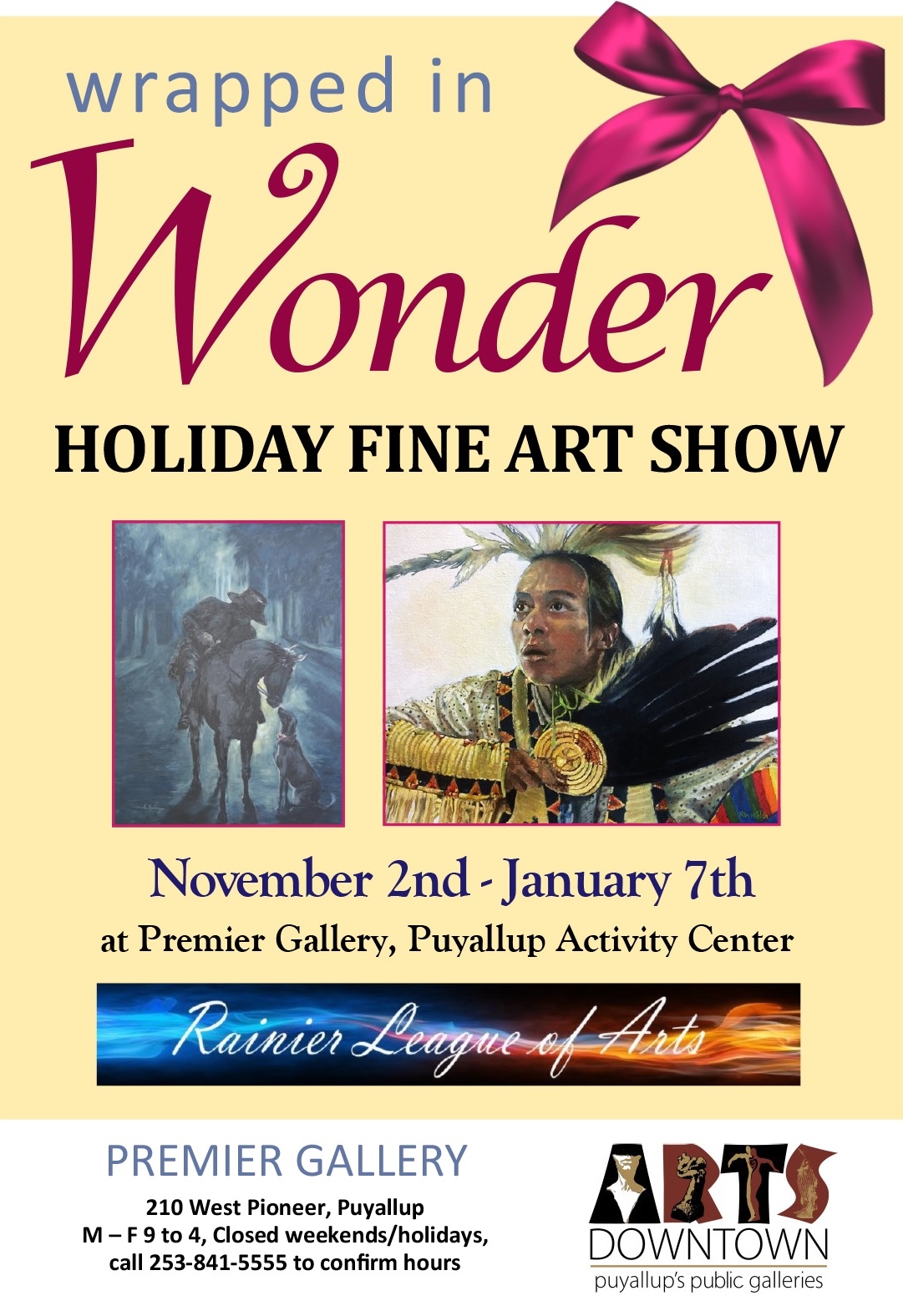 Rainier League of Arts, "Wrapped in Wonder" Fine Art Show
Date: November 2nd through January 7th
Time: Monday-Friday 9:00-4:00, closed weekends and holidays
Place: Puyallup Activity Center
210 West Pioneer Ave, Puyallup, WA 98371
The Rainier League of Arts "Wrapped in Wonder" fine art show features local artists.
---
Autumn Arts Celebration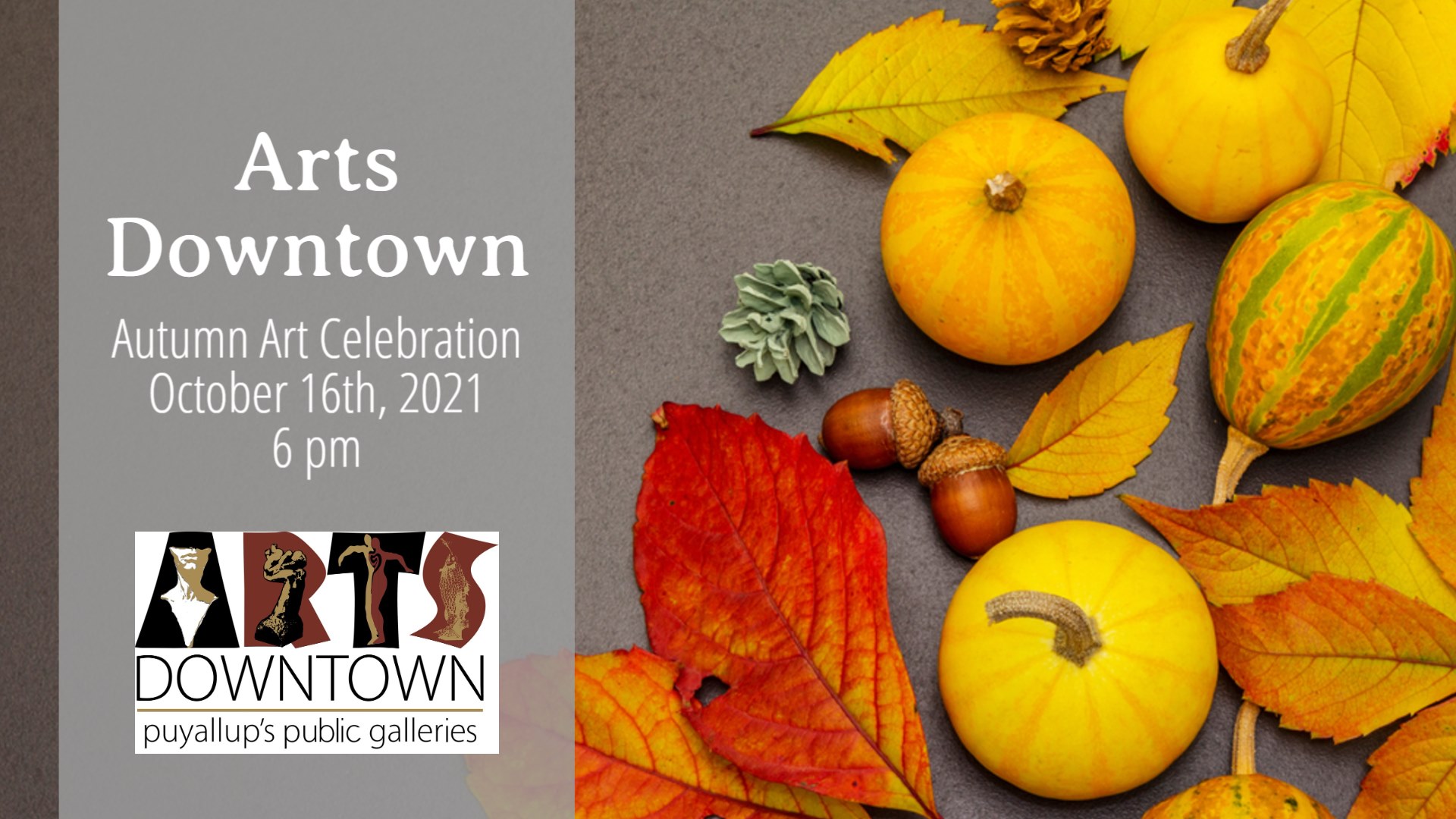 Autumn Arts Celebration
Date: Saturday, October 16th, 2021
Time: 6:00PM
Place: Pioneer Park Pavilion
324 S. Meridian Puyallup, WA 98371
Arts Downtown, Outdoor Public Gallery artist recognition, and auction fundraiser.
Catered dinner by Mama Stortini's. Live music with Jeff Mims. Puyallup's finest, Mike Eagan will be our emcee. To purchase $50 tickets or for more information email Kathy Turner at, kathy.turner@artsdowntown.org
---
Remembrance of Camp Harmony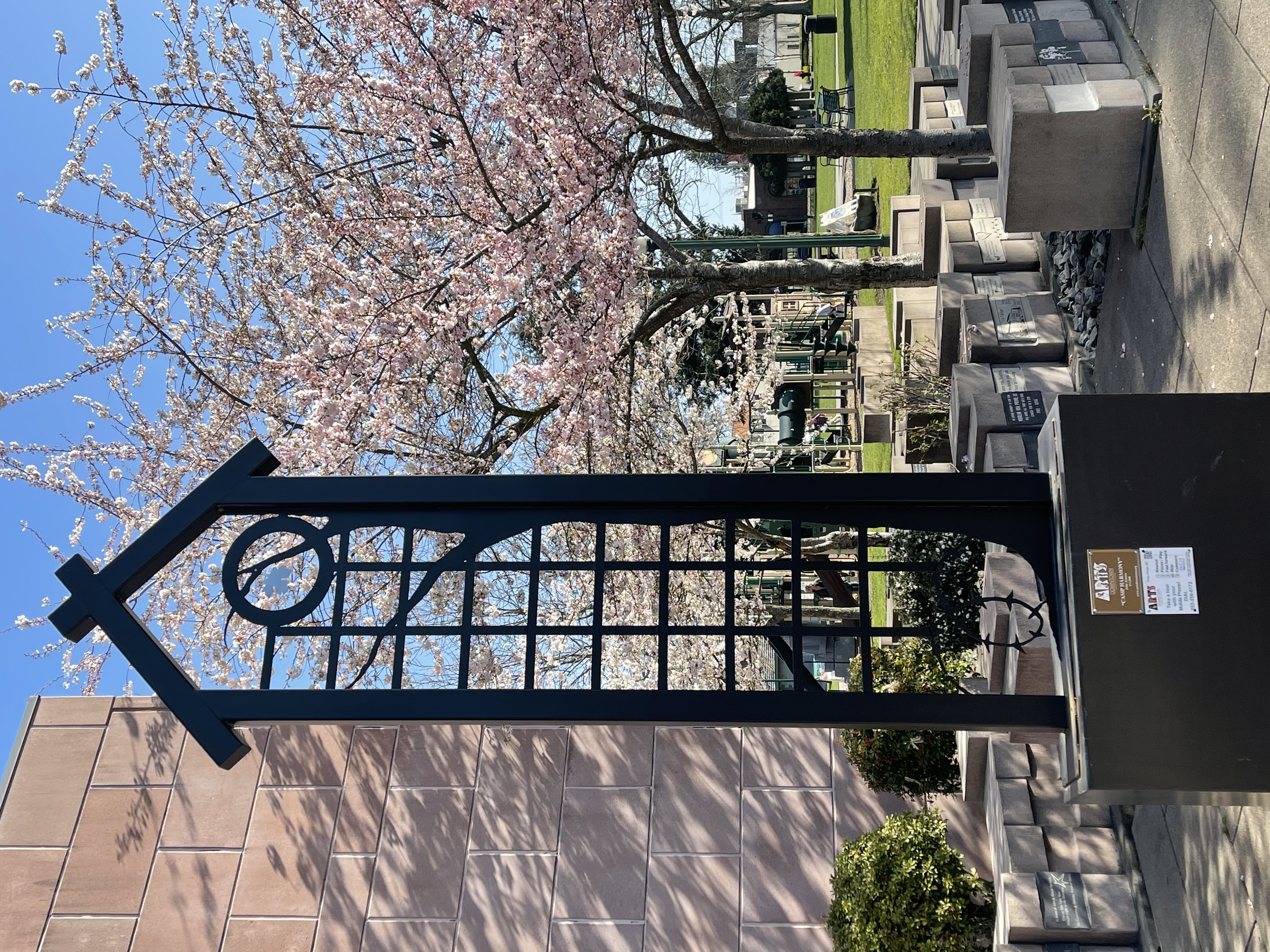 Dedication ceremony for "Camp Harmony" from Arts Downtown to the City of Puyallup.
Date: Sunday, October 3rd, 2021
Time: 12:00 PM
Place: Pioneer Park Rotary Stage
324 S. Meridian Puyallup, WA 98371
Speakers:
Lori Matsukawa, created the King5 series, "Prisoners in Their Own Land"
Cho Shimizu, a graduate of Puyallup High School whose family was imprisoned at the Puyallup Assembly Center.
Kent Hojem, CEO of the Washington State Fair.John Zylstra, the artist who created "Camp Harmony.
Entertainment and Exhibits:
Taiko drummers
Northwest Bonsai Museum
Photo exhibit of the Puyallup Assembly Center, AKA Camp Harmony Puyallup Fair Grounds.
---
Installation Day Rotating Gallery - 2021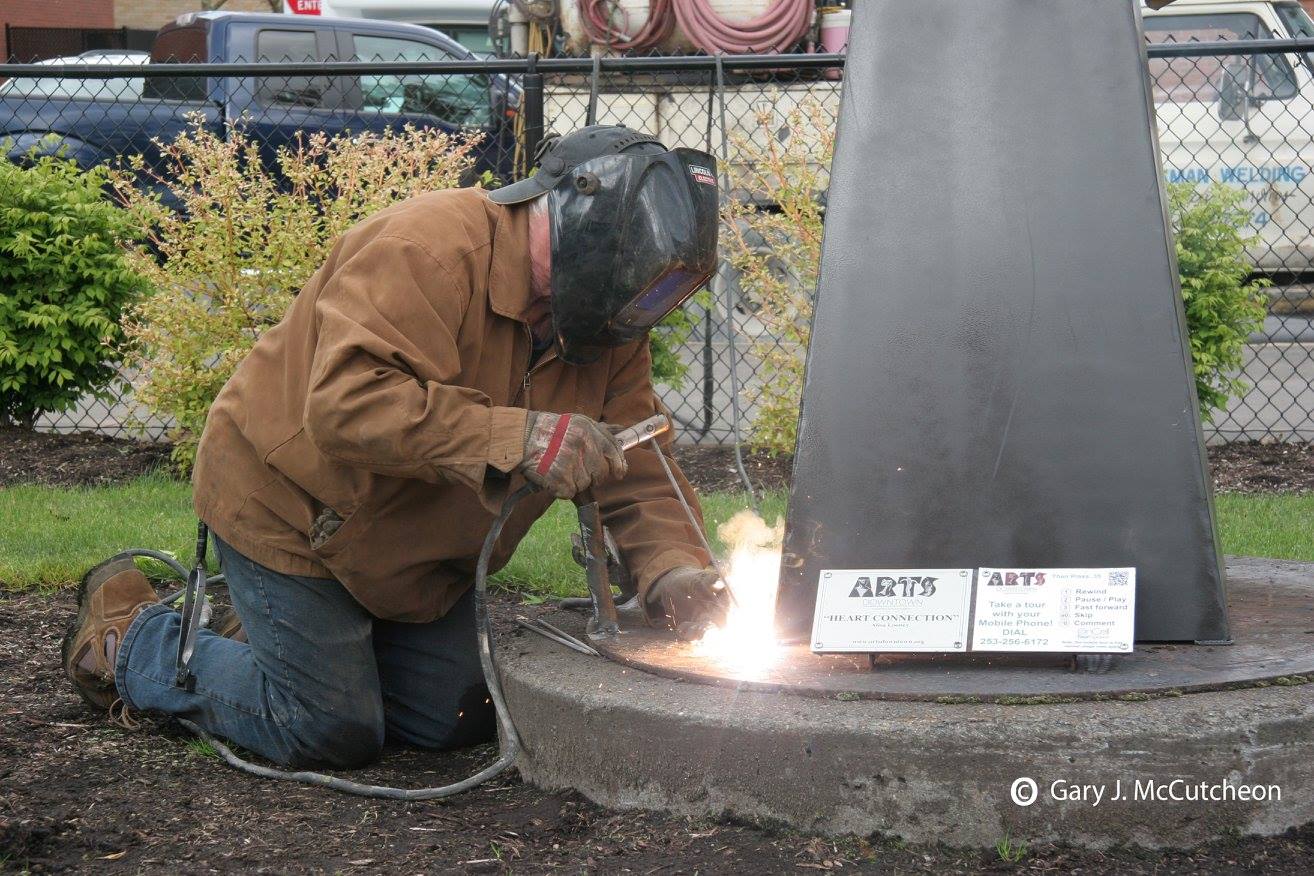 Rotating Gallery Installation Day
Date: April 25th, 2021
Time: All Day
Place: City of Puyallup
---
Street Side Gallery by Arts Downtown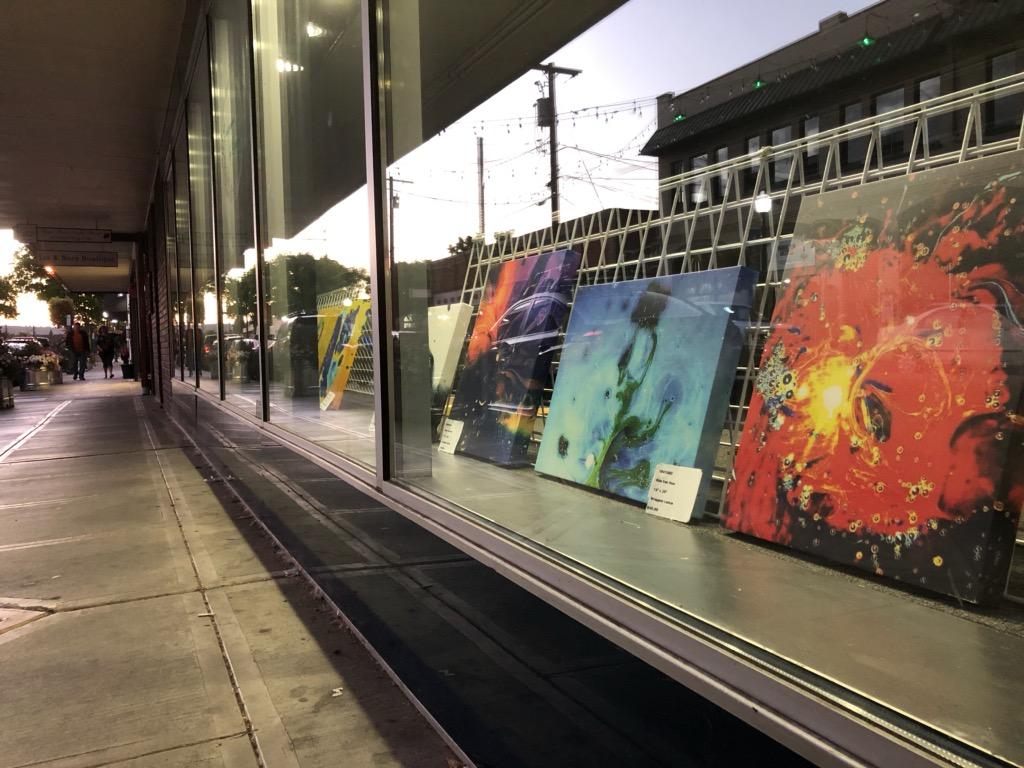 Date: NOW CLOSED
Place: On the Corner / Street View
124 S. Meridian
Puyallup, WA 98371
Our newest indoor gallery featuring local, fine artists. You can conveniently and safely view the gallery from the street. Arts Downtown, Premier and 5th Floor Galleries are working with local artists to help them show their work at a time when indoor gatherings are prohibited. For more information about the artists and/or how to purchase paintings please contact:
Fine Art Gallery Manager
Maren Williams
Email: ADTfineartgalleries@gmail.com
Ph: (253) 359-0275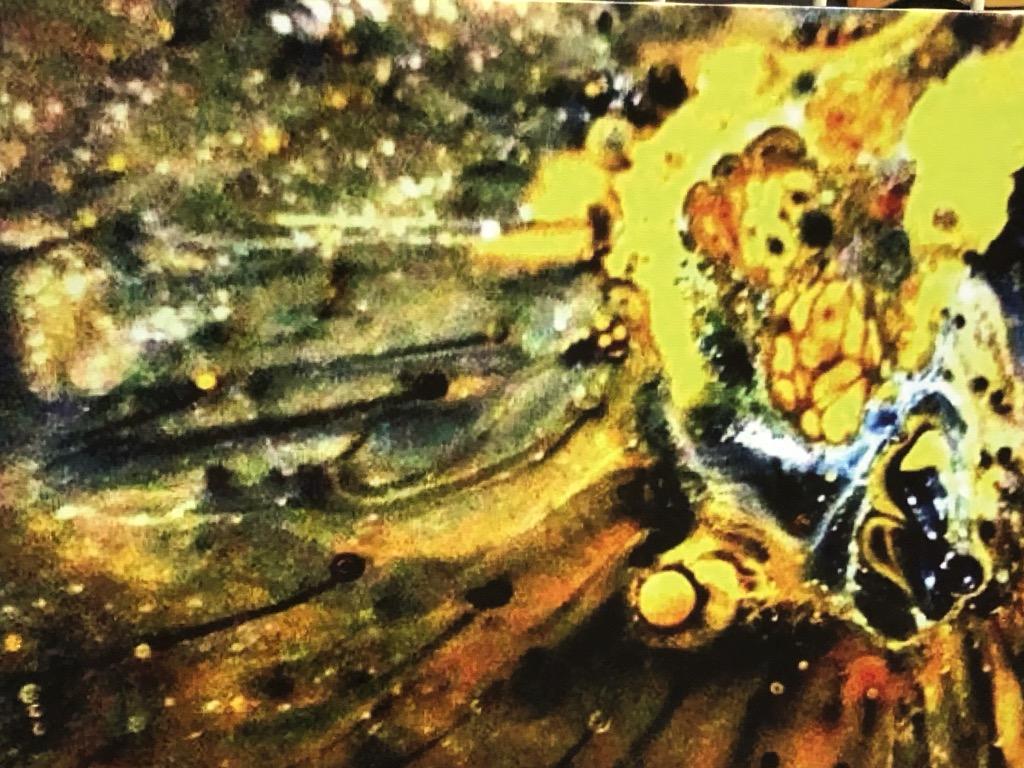 Street Side Gallery Featured Artist:
Ron Von Hess
Ron Von Hess is a world traveling father, entertainer, artist, US Army Veteran, toy and merchandise designer and animal rescuer. He started doing abstract art 14 years ago developing his own style based on vivid color perception . After his daughter's untimely death 5 years ago he stopped painting for 4 years recovering from it's aftermath. He now donates a percentage of the proceeds from the sale of his art to save local unwanted pets and to women and children shelters in his daughter's name. His last painting at that time , CASSIE , was her spirit working through him and by far his favorite looking like an abstract version of his daughter's doll she carried everywhere.
Paintings are $80.00 with 20 percent of profits going to these charities. Paintings can be purchased at Ronbuddahsutherland@hotmail.com at PayPal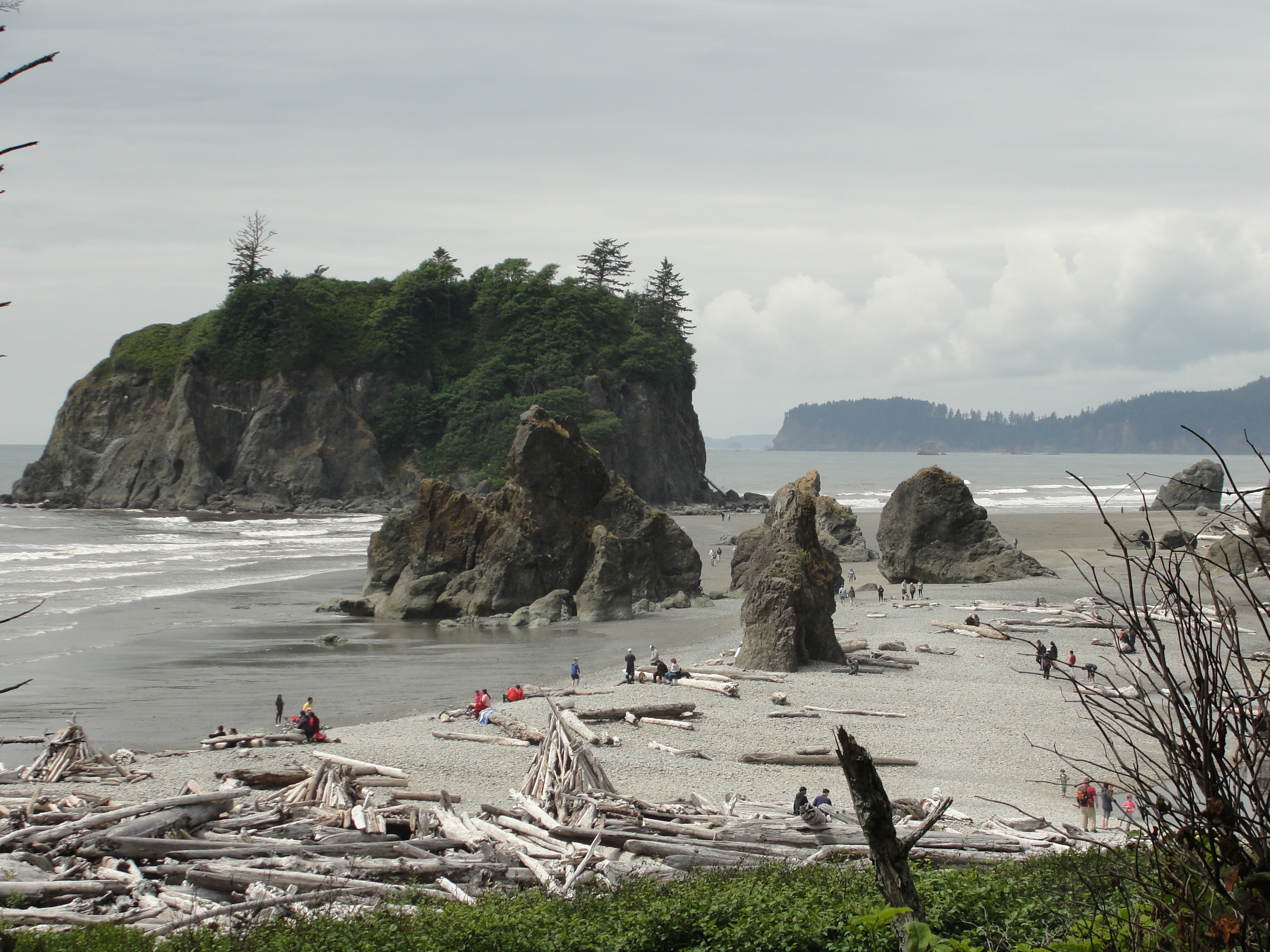 Street Side Gallery Featured Artists:
Becky and Gary Condra
We are amateur photographers who have always enjoyed taking pictures of nature wherever we go. Last year we took a trip to the Olympic peninsula. We love that area of Washington because it is so very unique. We visited the Hoh Rain Forest, Ruby Beach, and Beach #1. They are all part of Olympic National Park. So many places of great beauty are in that area. We love getting out in nature and finding unique things to photograph. As you walk along the trails in the Hoh Rain Forest it is easy to feel that you are on a different planet. The huge trees and hanging moss everywhere lend an aura of mystique to everything. It's great fun to imagine different images in stumps and trees. The beaches are great places to watch for unique rocks and pieces of driftwood. Beach #1 in particular has massive burls on the spruce trees. Again, it is so fun to use your imagination and look for images.
None of our photographs have been altered in any way. They are our creative vision of the beauty we found in the Pacific Northwest. I hope you enjoy seeing them as much as we enjoyed taking them. Use your imagination and look for new images that we didn't see.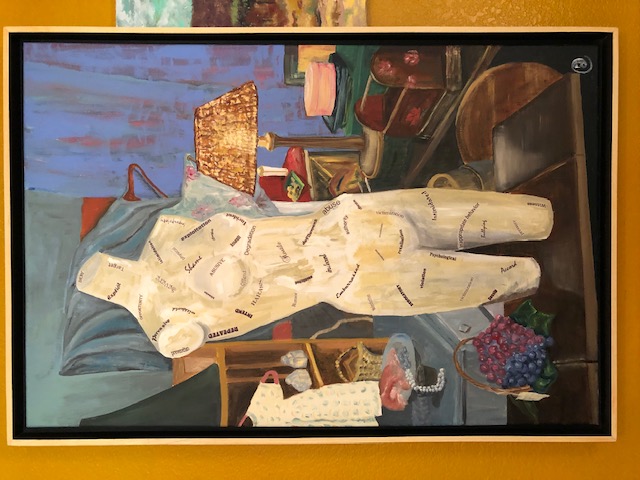 Street Side Gallery Featured Artist:
Trish Cole
Trish Cole's passion for art started at a very young age. Her mom even sent her to summer camps for art, in elementary school. She is passionate about the outdoors, gardening and the Pacific Northwest. This is imbued in all of her art. Trish attended the University of Washington and Burnley School of Art. She practiced as a free lance graphic designer, for several years. But quickly determined fine art, and various mediums of expression, were where her heart lay.
"Art is a way to express the passion, and love of every emotion and experience in life. It is a way to diffuse, explore. and express tumultuous changes in society and humanity."
---